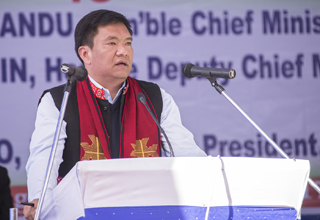 YINGKIONG, Dec 3: Chief Minister Pema Khandu said that the state government will not accept the NITI Aayog's proposal for building of 10,000 MW dam on Siang River in Upper Siang district.
Addressing a huge gathering at a public meeting here on Sunday, the chief minister said that the local sentiment with regard to the dam has already been expressed to NITI Aayog in the October meeting held at New Delhi.
The chief minister, with his cabinet members, was called by the NITI Aayog to discuss on the 10,000 MW dam, to which all had expressed their objection.
He also said no other dams will be built on the Siang River "unless the confidence of the local people has been taken."
Pema further said that, since he took over as the chief minister, the state government has till date not signed a single MoU with any power developer.
"When many of the earlier MoUs signed are all messed up, there was no question of signing any new MoUs," said the Chief Minister.
The chief minister, meanwhile, expressed concern over the muddying of the Siang River, and said he suspected Chinese activities upstream for the deteriorating quality of river water.
A report on the ground situation from the district administrations of East Siang and Upper Siang has been already submitted to the Government of India, he said, adding that a letter has been sent to the centre, enquiring if any talks are being held with the Chinese Government on this matter.
Chief Minister Pema Khandu also inaugurated the 218-metre Nubo bridge over the Siang River in Upper Siang district on Sunday.
The steel-cable suspension bridge is situated about 14 km from Yingkiong, and will connect various circles and sub-divisional headquarters in the district situated on both the banks of the river.
The chief minister expressed appreciation for the work agencies – the PWD and GPT Infraproject Ltd – for ensuring quality while completing the bridge, which was built at a cost of Rs 3278 lakhs.
He also took part in a tree plantation drive near the bridge.
Earlier, the chief minister took part in the inauguration ceremony of a new BJP office here, which was inaugurated by state BJP President Tapir Gao.
Deputy Chief Minister Chowna Mein, RD Minister Alo Libang, Geku-Mariyang MLA Olom Panyang, DC Duly Kamduk and other dignitaries also attended the inauguration function.