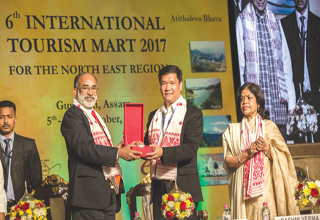 GUWAHATI, Dec 5: Chief Minister Pema Khandu appealed to foreign delegates and domestic stakeholders to visit Arunachal Pradesh and other Northeastern states to experience their cultural diversity, natural beauty and rich biodiversity, during the inaugural event of the 6th International Tourism Mart (ITM) on Tuesday.
Organized by the Union Tourism Ministry in association with the Northeastern states at Taj Vivanta here on Tuesday, Assam Governor Jagdish Mukhi inaugurated the Mart.
Pema said the Northeast may be lacking in development but has rich cultural diversity and many other things to offer. He said the outlook of the Northeast is changing fast and investors and visitors are making frequent visits to this region in higher numbers.
Informing that the capital of Arunachal has rail connectivity and Shatabdi Express, Pema said that in the coming days, Arunachal is going to have better road, air, rail and digital connectivity.
"Further survey and investigation for railway connectivity along the foothills and even up to the higher reaches, such as Tawang, have also been started," he informed.
On air connectivity, the CM informed that six ALGS have been completed during his tenure. He said soon many of these airfields will have fixed-wing services, and that he hoped to see scheduled flights to Guwahati. He also said an airport for the state capital is also being fast materialised.
The chief minister thanked the Government of India for organizing the ITM, which is being organized on a rotation basis. He said that after the second meet, held in Tawang in 2013, the state has seen great increase in tourist inflow.
At least 66 foreign delegates comprising stakeholders and media persons from 29 countries and 50 domestic stakeholders in tourism sector from different parts of the country are participating in the three-day event.
The mart aims to put emphasis on India's Act East Policy, blossoming ties with ASEAN and the larger East Asian region. Also it aims to create awareness about the rich and varied tourism products of the Northeastern region in the domestic and international markets.
Assam Chief Minister Sarbananda Sonowal, MoS Tourism KJ Alphons and Tourism Minister Hemanta Biswa Sarma also attended the inaugural ceremony.