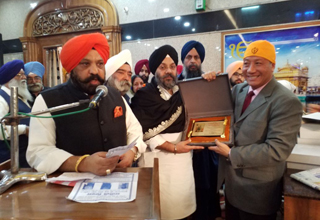 NEW DELHI, Dec 10: The Delhi Sikh Samaj on Sunday conferred its 'Guru Ka Ladla' Award on IGP Robin Hibu, Joint Commissioner, Rashtrapati Bhavan, 'in recognition of his exemplary social work for distressed and poor people of the North Eastern region.'
The award was presented to Hibu in the presence of thousands of Sikh elders from Delhi in a ceremony held at Janakpuri.
The initiatives taken up by Hibu in the interest of the people from the North East include conducting blood banks, providing concession at hospitals, providing scholarships for UPSC coaching, offering free counselling to youths, and assisting orphan girls from the region, among other things.
Hibu expressed gratitude to the Sikh Samaj for recognizing his services. He also expressed gratitude to the Sikh people and their gurudwaras in Haryana and Punjab for providing free shelter, food, and protection to stranded people from the NE when curfews were clamped during the days of the Ram Rahim episode and the Jatagitation.
Hibu also said the people from the NE are deeply touched by the humanitarian services of the Sikh people, such as offering free cremation service at the Punjabi Bagh crematorium.
"So far, 17 dead bodies of people from the NE have been cremated there," he said.
He expressed hope that the people in the NE would reciprocate by honouring Sikh people who are rendering yeoman service in the NE states.