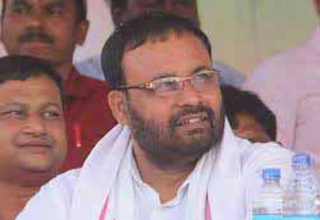 [ Prafulla Kaman ]
PASIGHAT, Dec 13: Assam Minister for Water Resources, Keshab Mahanta has said that the Centre has assured to take all necessary measures to bring the polluted SiangRiver back to its normal state.
Talking to reporters here on Tuesday, the minister said that Prime Minister Narendra Modi has taken a personal interest in the Siang River issue and its decontamination.
Mahanta, accompanied by Jonai (Assam) MLA Bhuban Pegu and water resource engineers of the state, visited the turbid Siang at Komolighat, near Pasighat, on Tuesday, and collected water samples for laboratory test.
Mahanta informed that Assam Chief Minister Sarbanada Sonowal on Tuesday met Prime Minister Modi and held threadbare discussion on the pollution in the Siang and the Brahmaputra, during which Modi is said to have taken a personal interest in decontaminating the rivers.
According to a PTI report, External Affairs Ministry has already contacted China and a pragmatic and exhaustive study was being undertaken to find the real cause of Siang turning black.
The meeting in New Delhi on Tuesday was also attended by Union ministers Sushma Swaraj, Nitin Gadkari, Rajnath Singh and Arun Jaitely.
"I also took up the issue with the foreign affairs and the water resource ministries of the central government, and requested them to deal with the situation," the Assam minister said.
Referring to satellite imageries of the Remote Sensing Department, Mahanta said, "Heavy landslides had occurred in the confluence of the Tsangpo and the Siang Rivers in Tibet during the third week of November. The landslides, triggered by a high-intensity earthquake, supplied huge quantity of limestone and other particles, which might have contaminated the water in the Siang and the Brahmaputra downstream," Mahanta said.
He further informed that the Assam government has already made official communication with its Arunachal Pradesh counterpart on the Siang River issue, and that the water resources engineers have been instructed to keep updating about the situation.
Mahanta expressed hope that the river would regain its earlier state as the central government is taking up all scientific measures for its decontamination.
The leaders of the Dhemaji district unit of the All Assam Students' Union (AASU) met Mahanta in Dhemaji and handed him a memorandum for prompt remedial measures to cleanse the polluted Brahmaputra.
Siang, which enters Assam in Jonai and takes the name of Brahmaputra, is considered the lifeline for the riverside dwellers of both the states.