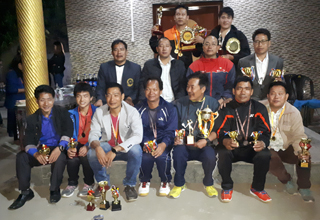 NAHARLAGUN, Dec 13: The third edition of the Kipa Tai & Menya Memorial Badminton Tournament concluded here at the IMC hall on Tuesday.
In the men's single (Open), Gungte Yangfo emerged the winner, and received a trophy and a cash prize of Rs 12,000.
Tana Nama and Kipa Piter came in at second and third places. They received a trophy each and cash prize of Rs 8000 and 5000, respectively.
In men's double (Open), the pair of Tana Nama and Taring Bapu emerged as winner, while Gungte Yangfo and Bunya Tayum were at second place, and the pair of Kipa Babu and Ngomdir Iter were placed third. The winners went away with trophies and cash prizes of Rs 16000, 10000, and 5000, respectively.
Tana Nama won in the men's single (Veteran) category, while Taring Bapu remained in second place, followed by Gungte Yangfo at third position.
The pair of DG Tadar and Gungte Yangfo won the men's double (Veteran) category, while the duo of Bunya Tayum and Taring Bapu won second position. Ngomdir Iter and Kholi Konia won third place.
The prizes were distributed by former MLAs Tani Lofa and Kipa Babu, and IMC Chief Municipal Executive Officer Olik Taring.
A total of 94 shuttlers from different parts of the Capital Complex took part in the tournament, which had begun on 7 December.