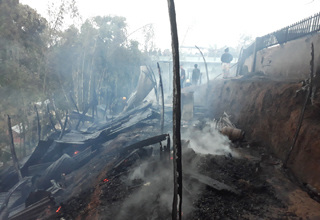 ITANAGAR, Dec 16: Two OB type houses were gutted by a devastating fire that occurred in ESS Sector here on Saturday afternoon, leaving seven members of each house roofless.
Home Parliamentary Secretary Pani Taram, who was in his office in the Higher & Technical Education Directorate, rushed to the spot.
Though a fire tender with seven fire-fighters rushed to the spot after the fire broke out at 3.35 pm, traffic congestion caused so much delay that the house with all belongings was gutted by the time the fire tender reached the spot.
Taram, who inspected the fire-fighting operations, consoled the owners – Tali ASM Gichik Taru and PHE&WS labourer Hichik Tayup – and gave them Rs 25,000 each as immediate relief, with the assurance that relief from the state government would follow.
The lawmaker also spoke to Capital Complex DC Prince Dhawan regarding grant of immediate relief to the victims soon.
After learning about the incident, APCC President Takam Sanjoy also requested the DC to grant relief to the victims immediately.