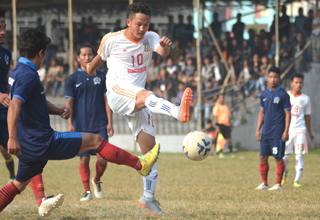 West Siang, Kra Daadi complete semis line-up
NAHARLAGUN, Dec 16: Defending champions West Siang stepped up its game, defeating Lohit 6-2 in the third quarterfinal match of the 16th Tadar Tang State Level Football Tournament at Rajiv Gandhi Stadium here on Saturday.
West Siang displayed brilliant teamwork in the game and scored almost at will after Jumdo Padu opened the floodgate in the 19th minute. He again scored in the 21st minute and completed his hat trick in the 69th minute.
Toni Ragyor, Diamond Gey, and Captain Joken Ete scored a goal each to complete the drubbing of the team.
There was a lack of proper coordination among the Lohit players.
The first semi-final match will be a repeat of last year's final match, where West Siang beat Capital Complex. Capital Complex will look to avenge the defeat in Sunday's (first semi-final) match.
Kra Daadi edged past East Siang 4-2 in the fourth quarterfinal match in extra time to secure a berth in the last four.
Debong Kaying Mengu put East Siang ahead,scoring through a penalty kick in the 7th minute. Khyoda Tamo leveled the score with a beautiful header in the 15th minute.
East Siang again took the lead in the second half,thanks to another goal from Mengu in the 55th minute.
The match went to extra time after Tarh Rajkumar restored the parity in the 66th minute.
Tarh Rajkumar (88th min) and Romik Tapa (100th min) netted one goal each in extra time to seal the victory.
Kra Daadi will face Lower Subansiri in the second semi-final match on December 18.
Both the semi-final matches will start at 1.45 pm.