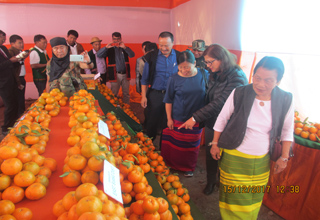 State's orange production in sharp decline
DAMBUK, Dec 17: Orange production in Arunachal Pradesh has sharply declined from 1,24,000 MT in 2015-16 to 79212 MT in 2016-17, "which is a worrying trend," said Horticulture Secretary, Mimum Tayeng, during a four-day 'buyer-seller meet-cum-workshop on orange' which began here in Lower Dibang Valley district on 15 December.
Orange growers from Dambuk, Roing, and nearby districts, along with buyers and exporters from various parts of the country attended the workshop.
Tayeng emphasised the importance of proper orchard management and good horticulture practices for improving the size, quality, and production of orange to meet the standard required for export to other countries. She also sensitized the orange growers to the new guidelines of horticulture schemes.
Referring to the World Food Festival held in New Delhi in November, she said that fruits of the state were much in demand and highly appreciated in the festival, "which has changed the focus of the department to market- and export-driven horticultural activities."
Experts from the Horticulture department and the College of Horticulture & Forestry, Pasighat, guided the farmers on scientific methods of orange cultivation, and pest and disease management to curb the decline in citrus production.
Progressive farmers shared their views and placed their problems during the workshop, while exporters and buyers from outside the state, who were much impressed with the quality of oranges here, outlined the requirements in respect of size, colour, taste, etc, for the fruit to be classified as export quality. They also expressed their willingness to export the oranges of the state.
This was followed by a field demonstration by the orange growers.
In the closing ceremony, Deputy Chief Minister Chowna Mein gave away the prizes to the winners of the 'orange show competition'. He briefed the gathering about the prospects and potential of horticulture in the state.
Earlier, the event was inaugurated by WRD Parliamentary Secretary Gum Tayeng. The workshop was organised by the Horticulture department in collaboration with the organisers of the Orange Festival of Adventure and Music, and was aimed at popularizing the Arunachal orange brand stemming the decline in orange production.