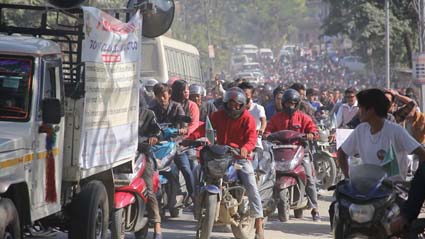 Staff Reporter
ITANAGAR, Dec 21: The Abo Tani Clan Organisation (ATCO) organised a massive two-wheeler rally from the general ground in Model Village to the IG Park tennis court here to reiterate its demand for the creation of a Department of Abo Tani Tradition & Culture Affairs (DATCA), and to press for the resignation of Chief Minister Pema Khandu for the 'dog' remark he made during an assembly session.
ATCO President Yamra Taya accused Pema of sidelining the demand for DATCA and creating the Department of Indigenous Affairs (earlier known as the Department of Indigenous Faith and Cultural Affairs) instead, and demanded early creation of DATCA.
The organisation claimed that it had submitted a memorandum to the chief minister on 8 May regarding creation of DATCA, and that he assured to take up the matter in the state cabinet on 11 August for approval; but their idea was taken instead to create the Department of Indigenous Affairs during the state cabinet held on 11 August, it said.
Also seeking the chief minister's resignation over the 'dog' remark he allegedly made against Leader of Opposition Takam Pario, the organisation said it was unbecoming of the CM to use such language against an elected legislator.
On the creation of posts for 100 Bhoti language teachers, Taya said that if the state government can recruit such a large number of teachers in the Bhoti language for the welfare of the Monpas, Tibetans and Buddhists in general, it could do the same for the development of the local dialects of the Abo Tani clans, so that the Tani clan could preserve its languages as well.
"Give us 100 teachers as well," Taya added.
The ATCO further demanded that the NHPC office, which had been established in Itanagar but later shifted to Guwahati, be brought back to Itanagar for the ease of the state's people.