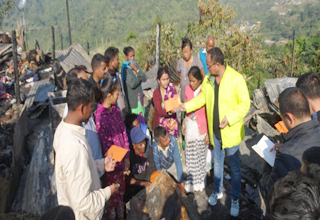 ITANAGAR, Dec 22: UD Parliamentary Secretary Techi Kaso on Friday visited the families affected by the fire accident that gutted 16 houses in Niti Vihar on Thursday evening.
Kaso, who was accompanied by IMC Chief Councillor Kipa Kaku, Chief Municipal Executive Officer Olik Taring, Niti Vihar Councillor Donik Tayu, and others, consoled the victims and offered Rs 2 lakhs from his end as immediate relief.
He urged the state government to grant relief to the affected families at the earliest.
Kaso appealed to the residents of the Capital Complex to provide space for passage in the colonies and sectors, as it is helpful during emergencies like earthquake, fire accident, and such.
The PS also directed the officials of the fire safety and disaster management department to prepare a relief package for the affected families.