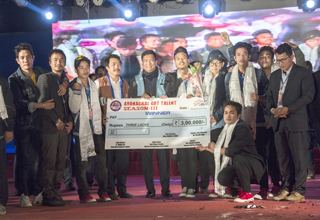 ITANAGAR, Dec 22: Chief Minister Pema Khandu has announced to make Arunachal Idol, Arunachal's Got Talent, Miss Arunachal and Mr Arunachal contests calendar events.
He said the state government will fully support these events "to give talented youths a platform and an opportunity to showcase their talents."
Pema made the announcement during the grand finale of the 3rd edition of Arunachal's Got Talent (AGT) at IG Park here on Thursday evening.
Ten finalists, selected from among thousands of contestants from across the state, performed in the finale.
The CM recalled his role in the initial days of AGT, saying he had contributed Rs 10 lakhs for conducting the event. This was raised to Rs 25 lakhs for the current season, he said, and assured further support from the state government.
At the end of the event, the chief minister gave away a cash prize of Rs 3 lakhs to the winner of the contest, D-Squad from Lohit district.
He handed over a cash prize of Rs 1 lakh to Urgen Tshomu of Dirang, who was adjudged the first runner-up. The second runner-up title was won by 'Dawa & Dawa' and 'Gamni & Ritu', who went home with cash prizes of Rs 70,000 each.
AAPSU members led by President Hawa Bagang, along with former NESO Secretary Gumjum Haider also attended the event. Stand-up comedian Kiku Sharda, well-known as Baccha Yadav, attended as the celebrity guest.