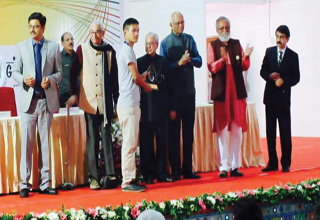 ITANAGAR, Dec 23: Anang Tadar has been conferred the 'Dr APJ Abdul Kalam IGNITE Award 2017' on 22 December. The award was presented to him by former President of India, Pranab Mukherjee, at Ahmedabad, Gujarat.
Tadar had received recognition for inventing a gadget called Goggle for Blind (G4B) in a bid to make life easier for visually impaired people.
The G4B helps blind people detect objects in their surrounding without any physical contact by the means of principle of 'echolocation' used by bats.
His invention was also adjudged the most innovative award in the recently concluded Regional Level Science Festival at the Regional Science Centre at Guwahati. He was awarded the Dinanath Pandey Smart Idea Innovation Award.
Apart from his current invention, Tadar has a hobby of making robots and gadgets. He has participated in many technical events organised by renowned technical colleges and secured first place most of the time.
Coming from a poor family, Anang used all his pocket money, and sometimes borrowed money from his friends, to build his products.
The Tadar Abu Charitable Society and the Tadar Abu Youth Organisation have congratulated the young achiever. The organisations wished him a bright future, and urged the state government to help the young man in fulfilling his dreams.