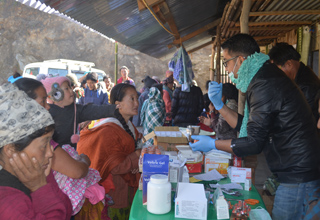 [ Talar Yuto ]
MANIGONG, Dec 23: Over 450 patients benefited from a medical camp conducted by the Turbung Daleng Welfare Society (TDWS), in collaboration with RK Mission Hospital, Itanagar, and the Indian Army (11 Bihar) at Manigong and Nemasibo villages in West Siang district on 20 and 21 December.
The camps were held in these border villages to provide better medical services to the underprivileged, as many cannot afford to go out for specialized consultation.
Inaugurating the two-day medical camp at Manigong, Head Gaon Burah Dorjee Pullom informed that it was for the first time that such a large-scale health camp was conducted for Manigoong and Pidi circles by a civil society.
Saying that the people of Pidi and Manigong circles are deprived of basic amenities in terms of medical facilities and education, Pullom informed that patients of both the circles cannot opt or further medical treatment for simplest ailments due to lack of financial assistance.
"Pidi and Manigong circles are strategically important as they share the international border with China. But the circles remain unconnected with proper road or basic amenities, leaving their population to endure hardship," said TDWS Chief Advisor Tayor Jempen.
He also lamented that due to the present circumstances, citizens of Manigong and Nemasibo have already migrated to towns such as Kaying, Aalo, and Itanagar to avail of the required facilities.
Yakam Puning (patient), Tam Pado, and Yai Ruchi, who have been suffering from various ailments for the past five years, said that they were in dire need of medical examination and treatment, and now with specialists providing health care services at their doorsteps, the TDWS' initiative was equivalent to god's mercy.
Informing that the population of Nemasibo has no proper source of income and work as GREF labourers or porters for the Indian Army, former Nebasibo ASM Tagam Jempen exhorted the intellectuals and educated youths of Manigong and Pidi circles to carry forward the steps initiated by the TDWS.
The team of doctors included medical super specialist Dr Aishwarya P Singh (oral and maxillofacial surgeon) and his team from RK Mission Hospital, the Indian Army (11 Bihar), Manigong, and Drs Ankush Dhiman, Sudhir Ahirwar, and Egam Bagra (medicine).
The TDWS also donated blankets and essential commodities to the villagers on the occasion.
Optometrist Nending Epi informed that patients who registered during the camp would be given free medical treatment at RK Mission Hospital if they turn up for further treatment.