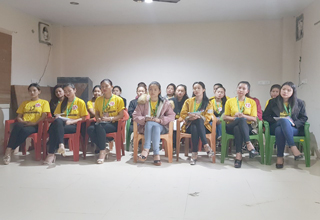 Staff Reporter
ITANAGAR, Dec 24: An interactive session was held for the final 19 contestants of Miss Arunachal-2017 at a city hotel here on Sunday, prior to the preliminary (Talent) round of the contest, scheduled for Monday.
Setting off with the vision to promote more than just beauty, the organisers of the pageant are also stressing on their future prospects as youth icons.
Besides aspiring models and college students, the contestants also include teachers, engineers, and sportspersons who have represented the state at the national level.
The contestants expressed their desire to change people's perception that a beauty pageant is merely an excuse to look glamorous, and instead to use their skills and resources to make constructive changes in the society.
Interacting with the contestants, journalist Sapna Tayem said that the pageant is an opportunity to build their confidence. She also advised them to respect the title and make positive use of the opportunity provided to them.
The grand finale of the pageant will be held on 30 December at IG Park. Miss India-Nagaland, Kaheli Chophy, will be attending the event as special invitee.