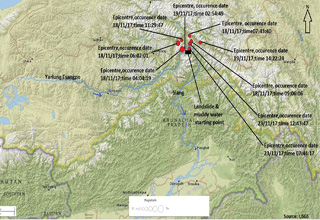 ITANAGAR, Dec 26: The recent earthquake in Tibet is the most probable cause of the Siang river turning muddy, according to a study conducted by the State Remote Sensing Application Centre (SRSAC).
'Landslides triggered by nine earthquakes of magnitudes up to 6.4 on the Richter scale resulted in deposition of huge debris and partial blockage of river Yarlung Tsangpo's course in Tibet China, which is found to be the cause of waters of Siang turning muddy,' the SRSAC stated in a release.
A team of scientists and engineers of the SRSAC conducted the study, using the satellite data of dates before and after the Siang turning muddy. The team collected water samples from different locations of the Siang during 8 to 10 December and the sample had been sent for laboratory analysis.
The SRSAC informed that nine earthquakes of magnitudes ranging from 4.1 to 6.4 were recorded in and around Namcha Barwa area of Tibet region from 17 November to 23 November.
'Considering the fact that there may be a connection of muddy water flow in the Siang with the recent earthquakes, a preliminary temporal remote sensing study was carried out with pre- and post-earthquake satellite data.
'As per post-earthquake satellite data, it is found that at the location of longitude 95° 09′ 07"E and latitude 29° 47′ 41"N, which falls in Namcha Barwa area of Tibet (China), the colour of water of the Siang has changed from blue to grey. Whereas, in pre-earthquake satellite data, the entire course of Siang River is found to be blue and no such kind of changes has been observed,' the SRSAC said.
'In-post earthquake satellite data, where change in colour of Siang is found, many patches of barren areas with greyish white signature are observed in the surrounding steep hill slopes, while in the pre-earthquake satellite data, red signature in the same patch are seen indicating presence of vegetation and found undisturbed,' it said
The SRSAC also said many more landslides may have occurred in the area during this period which could not be delineated due to cloud cover in the post earthquake satellite image.
'The change of turbidity of the Siang river water may be due to the huge debris fallen in the course of river because of these landslides. However, there is scope of a detailed study using high resolution cloud free satellite data,' it added.
Over the last few weeks, there has been a growing concern over the cause of the Siang river's water turning muddy, becoming unfit for drinking, and posing a threat to aquatic life in the Siang and the Brahmaputra.