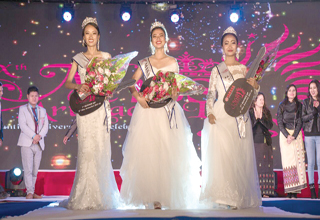 ITANAGAR, Dec 31: Osin Mosu, a BA final year student of Union Christian College, Shillong, was crowned Miss Arunachal-2017 in the grand finale of the pageant held at IG Park here on Saturday.
Yangchin Lhamu, a BSc graduate (with honours in Botany) from St Edmunds College, Shillong, and Oyi Jamoh, a final year BSc (Zoology honours), a student of JNC, Pasighat, were adjudged the first and second runner-up, respectively.
Daughter of Tapor Mosu (father) and Yachen Mosu (mother), Osin Mosu received primary education at APP School, Aalo. A 'best NSS volunteer' awardee of the North Eastern Hill University, she was selected as contingent commander of the all-India NSS volunteers in the Republic Day parade at Rajpath, New Delhi, in January this year. Mosu also represented India at the youth delegation programme held in Russia.
The event was organized by Miles Acres under the aegis of the Arunachal Guild for Cultural Integration.