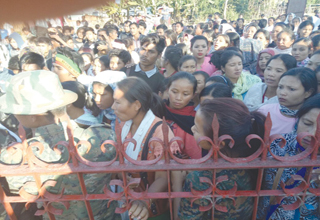 Staff Reporter
NAMSAI, Jan 5: The public in Namsai surrounded the Chongkham police outpost on Friday, demanding immediate action against the alleged suspect who has been arrested for the murder and rape of a 13-year-old school girl in Chongkham.
Making attempts to calm down the crowd, Sub-Inspector D Singpho told them that the police are working out all the modalities to ascertain the suspect's involvement, and requested the public to come up with clues, if any, to speed up the investigation.
Singpho, who is also the investigating officer of the case, said that their outburst was understandable, and that it would serve as a reminder to everyone before committing such a heinous crime. He assured that he would make sure that the culprit would not be let off, and that justice would be served.
Meanwhile, the mother of the victim has received the Rs 4 lakh ex-gratia (as had been assured by the state government) from local MLA Zingnu Namchoom.
Student bodies, NGOs and the public here have expressed appreciation for Namchoom's initiative in persuading the government for the gesture, and also thanked the administration and Chief Minister Pema Khandu for their active involvement in the case.
Earlier, on 23 November, 2017, the young schoolgirl was brutally attacked and murdered in the family fields.
The police on suspicion rounded up the victim's uncle and his driver in the days following the incident. The driver then gave a statement that his employer (the uncle) had attacked the child with a machete (dao) on her shoulder.
When she fought back, he slit her throat and raped her, the driver reportedly said.