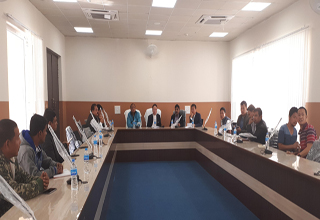 ITANAGAR, Jan 8: The much delayed convention hall project at IG Park here is expected to be completed before 20 January.
Urban Development (UD) Director Taba Tedir gave this information during a recent inspection of the project by UD Minister Nabam Rebia. Tedir said the department is "working hard to complete the project on time."
While inspecting the progress of work, Rebia said projects which are in the interest of the state should be properly constructed and quality should be maintained at all costs.
He directed the officials not to compromise with quality while finishing the project.
The convention hall has a seating capacity for 1000 people. It has three mini-conference halls, a food court, an administrative block, and a media room.
It also features an open amphitheatre with parking facility for more than 200 vehicles in the campus.
Landscaping of the project is currently in progress. It is being carried out by local firm, DKD Venture.
"Statues of Abo Tani and Jeet Ane, along with that of Jeet Ane's son and Kipu (dog), which will be installed in the convention hall, will give a local touch to the building," the firm's MD, Kardo Lomi said.
Last year, while visiting the convention hall, Chief Minister Pema Khandu had set 20 January as the deadline for completing the project.
Later in the day, Rebia visited the ongoing MLA apartment project at Gohpur Tinali (Chimpu). He was accompanied by Tedir, UD Parliamentary Secretary Techi Kaso, UD Secretary SK Jain, UD Capital Division Deputy Director Tayer Tache, and a team of officials from the department.