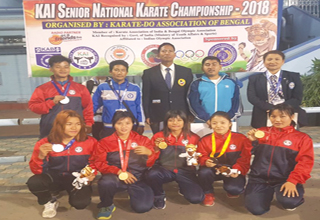 ITANAGAR, Jan 15: Three senior female karate players of Arunachal Pradesh created a record by clinching the first gold for the state in Team Kata event in the country's top karate championship.
The trio of Goda Asha, Mesom Singhi and Bamang Yamu lived up to expectations and performed brilliantly to clinch the most coveted medal in the Karate Association of India (KAI) National Senior Karate Championship, which was held in Kolkata, West Bengal, on 13 and 14 January.
The state also bagged two more silver and a bronze medal in the championship, bringing the total number of medals to four.
Johny Mangkhiya and Likha Lej bagged the silver medals in women's and men's individual kumite (fight). The lone bronze medal for the state was won by Niaimun Mara in women's individual Kumite.
The team was led by Rakesh Gamnu and Prakash Limbu as a coach and Chunu Sangno as team manager.
Meanwhile, Arunachal Karate Association President Likha Tara, General Secretary Sensei Bulang Marik and Technical Director Shihan S Deben Sharma have expressed their satisfaction over the overall performance of the team.