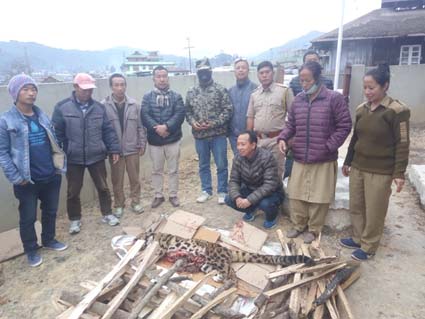 ZIRO, Jan 18: A patrolling team of the All Tajang Youth Association (ATYA) on Wednesday night caught a person with a hunted male clouded leopard from Swkhe-bo forest near Old Ziro, and handed him over to the police and forest personnel.
The illegal hunter has been identified as one Rakhe Pumbo of Rakhe village under Kumporijo circle.
"Based on an FIR lodged by the Hapoli Forest Division, the police here have registered a case against the hunter under Section 51 of the Wildlife Protection Act," said Officer In-charge of Ziro police station, Inspector Phassang Simi.
Clouded leopards are listed by the IUCN as animals that are vulnerable to extinction from their natural habitats in the near future.
Later, the big cat was cremated at the Hapoli range office premises after conducting postmortem in the presence of EAC Hage Tarung, OC Phassang Simi, Deputy Range Officer of Talley Wildlife Range, Ngilyang Pampi and members of the ATYA.