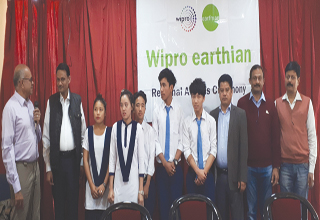 DOIMUKH, Jan 19: The students of the government higher secondary school (GHSS) here have won the Wipro Earthian award for completing a science project on the theme 'Biodiversity and sustainability of water'.
They were awarded during a ceremony held at the Science Centre here on Friday. The team from GHSS Doimukh includes students Tana Path, Nabam Tadar, Techi Yassa, Nabam Paper, and Nabam Lamin, led by PGT S Sharma.
Addressing the function, Wipro representative Ashish Shah informed that out of 1400 school that participated this year in the Wipro Earthian competition, only ten have been selected.
He said the national level award giving ceremony will be held on 3 and 4 February in Bengaluru.
Arunachal Pradesh State Council for Science & Technology (APSCS&T) Director CD Mungyak also spoke on the occasion.
The project aims at building skills, attitudes and values to shape a sustainable future. Its vision is to create an informed society by nurturing sustainability ideas within young minds in schools and colleges.