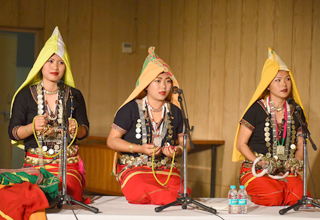 [ Prafulla Kaman ]
RUKSIN, Jan 23: The melodious folk song of the Adi tribe of Arunachal Pradesh received huge applause in a cultural event titled 'Sanjari', organized by the Indira Gandhi National Centre for Arts (IGNCA) in New Delhi last Saturday.
The Adi folk song was presented by a team of artistes led by Delong Padung at 'Sanjari', which is a monthly event organized with the aim of preserving the essence of the folk music of different tribes of the country in their original form. This edition of 'Sanjari, which coincided with the IGNCA's 30th foundation day, focused on the cultural heritage of Arunachal Pradesh.
Artist Padung, a national board member of the Art & Culture, informed this correspondent from New Delhi that his effort was to preserve the state's cultural heritage and engage the youths in the field of art and culture.
"Though there is no short version of the folk songs, our team of artistes revived the folk song in its original form and placed before the IGNCA for due recognition as living tradition," Padung said.
"I am grateful to the organizer for providing the right platform for promotion of the cultural heritage of the state in the national capital," he added.
Padung, a native of Ruksin in East Siang district, has also established an institution on indigenous culture, called Karpung Karduk Music Academy.