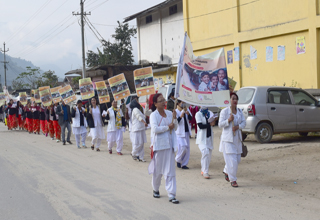 SEPPA, Jan 29: Students and teachers from various schools participated in a rally organised here by the East Kameng District Health Society (DHS) on Monday to create awareness on the Measles-Rubella Vaccination Campaign (MRVC).
During the rally, which was organised in collaboration with the Wessang VKV and NGO Mothers' Group, students and teachers led by DRCHO Dr Dirang Pizi marched down the township, giving a clarion call to parents to get their children vaccinated during the vaccination campaign.
A series of training programmes have also been conducted to sensitize ASHAs, anganwadi workers, supervisors and others to the MRVC. Today, an MRVC sensitization programme was conducted at Kameng Hall and at the district hospital by Dr Pizi, medical superintendent Dr Kopi Gyadi, and ICDS DD in-charge Khoda Tapa.
Similar programmes have also been conducted to sensitize NGO representatives, BRCCs, CRCCs and other staff of the Education department.
Meanwhile, the DHS launched the Intensified Pulse Polio Immunization campaign across the district on Sunday.
Our Correspondent adds: In Lohit HQ Tezu, Deputy Commissioner Karma Leki held a series of meetings with officials of the ICDS, Education and other departments, along with panchayat members, GBs, and others, in view of the MRVC.
DRCHO Dr S Nayil and his team carried out sensitization activities in religious places like churches, mosque, and temples in the entire district, and students of Apna Vidya Bhavan and the KGBV conducted awareness rallies and IEC activities at Wakro, the Parsuram Kund Mela, and other places.
Dr Nayil said monitoring and supervision of the campaign would be done by officials of the Education and ICDS departments, in addition to health officials.
Meanwhile, core group meetings are being held regularly. Core committees have been formed and are fully functional in the block levels.