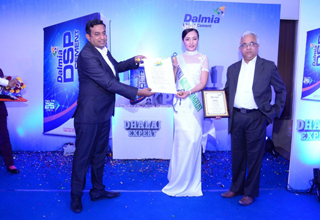 ITANAGAR, Jan 29: Dalmia Bharat Cement on Monday launched its special brand, Dalmia DSP Cement, in Itanagar.
The most unique feature of this product is its superior one-day strength and its unique packaging. Dalmia DSP Cement comes in a shower-resistant bag which ensures that the quality of the cement is not affected and is factory-fresh. This product is positioned to be as a 'dhalai expert'.
To stress upon the brand's endeavour to be environment-friendly, Dalmia Cement also felicitated Chum Darang as 'Green evangelist'.
Darang, who has won numerous accolades in beauty pageants, also does commendable work in conservation of environment and maintaining ecological balance.
Incidentally, she runs a campaign called 'Save River Siang', which has won the hearts of the people of Arunachal. The launch was held in the presence of dealers, architects and engineers from the state.
Speaking about the launch, Sunil Aggarwal, Assistant Executive Director, Dalmia Cement (Bharat) said, "With this product our focus has been to deliver high quality standard to the consumer in terms of early strength with a unique aesthetic packaging in the form of a shower resistant bag. This unique packaging prevents moisture to enter the bag and keeps the cement factory-fresh. This product is specially designed for all foundation and roof casting jobs."
He said the properties of the cement are ideal for the weather conditions of the region. "Dalmia Bharat Cement has made its presence felt in the region for quite some time."
Further adding to it, Sunil Aggarwal said, "With this launch we are expecting to cater to the ever increasing demand of quality cement in the region and serve the consumers with utmost level of customer centricity and innovation. We are also hopeful that like all our other products, Dalmia DSP Cement will also be well received by our consumers.
"We dedicate this product to serve the customers of Arunachal and hope that Dalmia DSP Cement will be well received by our consumers," he said.
Dalmia Cement (Bharat) Limited (DCBL), a subsidiary of Dalmia Bharat Limited (BSE Code: 533309|NSE Symbol: DALMIABHA and listed in MSE), is a leading player in cement manufacturing since 1939. It is one of the largest and most diverse cement companies in India and is the world's greenest cement company.
With a growing capacity, currently at 25 MnT, Dalmia Bharat Cement is also the fourth largest manufacturing capacity in the country. Spread across eight states and 11 manufacturing units, the company is also the category leader in super-specialty cements used for oil wells, railway sleepers and air strips and is the country's largest producer of slag cement.
The company has to its credit contributed to nation-building, having supplied cement in major quantities in the construction of the Dhola Sadia bridge in Assam, the Chennai metro, the Kochi metro, etc. For more information, visit www.dalmiacement.com.