AALO, Jan 30: The league round football and volleyball matches for men and women were played on day two of the second State Level Hangpan Dada Memorial Trophy tournament here and in Kamba in West Siang district on Tuesday.
In the men's football, Changlang, West Siang, Kurung Kumey, Kra Daadi and East Siang won their respective matches to earn full points.
East Kameng played out a goalless draw against Lower Dibang Valley, while the match played between Capital Complex and Papum Pare ended in 1-1 draw.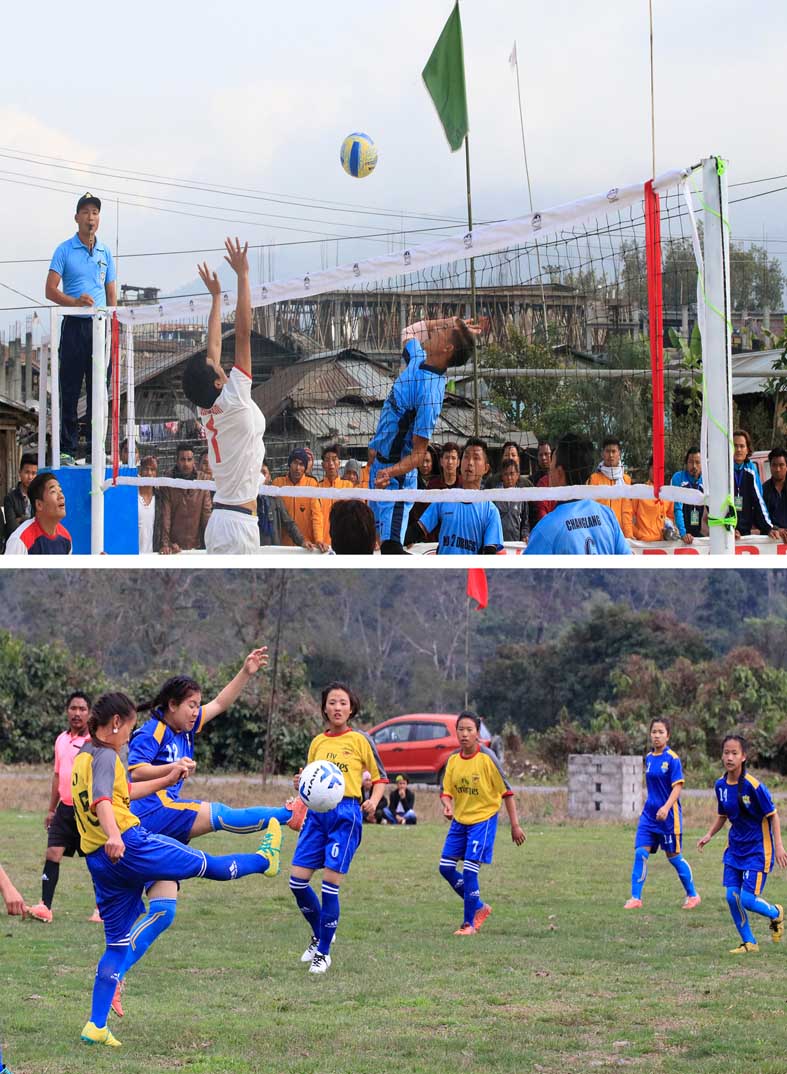 Day-2 results:
Men's football: East Kameng drew with Lower Dibang Valley 0-0; Changlang beat West Kameng 3-1; West Siang beat Upper Siang 4-0; Kurung Kumey beat Tawang 2-0; Capital Complex drew with Papum Pare (1-1); Lower Subansiri lost 1-2 to Kra Daadi; and East Siang beat Namsai 2-1.
Women's football:
Changlang was given walkover against Dibang Valley; Papum Pare beat Lower Dibang Valley 3-0; Upper Siang beat Siang 1-0; Upper Subansiri beat East Siang 2-1; West Kameng lost 1-2 to Namsai; Capital Complex beat Tawang 10-0; and West Siang beat East Kameng 4-0.
Men's volleyball:
Kra Daadi beat Longding (2-1), Lower Subansiri beat Changlang (2-0), West Kameng beat Upper Siang (2-0), Capital Complex beat East Siang (2-0), West Siang beat Lower Dibang Valley (2-0), Tirap beat Siang.
Women's volleyball:
Upper Siang got walkover against Dibang Valley; Longding beat Lower Dibang Valley 21-16, 18-21 15-12; Upper Subansiri beat Tawang 21-17, 21-10; West Kameng beat East Siang 21-11, 21-9; East Kameng beat Tirap 21-13, 21-11; and Kra Daadi beat Capital Complex 21-18, 8-21, 21-8. (With inputs from DIPRO)