Staff Reporter
ITANAGAR, Jan 30: Three people were killed on the spot when a Mahindra Bolero (AR 05-0012) belonging to the Seppa (East Kameng) EAC and a Hyundai Eon (AS 07E-18346) collided between Harmuti and Laluk in North Lakhimpur district of Assam on Tuesday morning.
A family member of the EAC informed this daily that the incident occurred at around 9.30 am when the EAC, Atil Padung, and his driver, Fetung Natung, were on their way to Longding. The duo survived with minor injuries.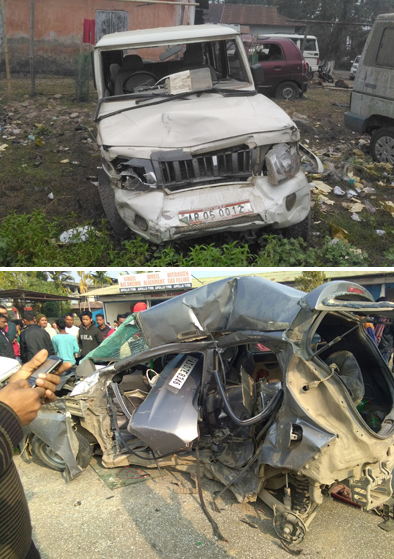 The family member also informed that the Hyundai Eon first collided with a motor bike, following which, the car lost control and started rolling on the road and hit the Mahindra Bolero which was coming from the opposite direction.
Speaking to reporters, Laluk PS OC Ajit Kumar Bhuyan informed that they are investigating the incident and will register a case based on the findings.
He had informed that as of now nothing is conclusive but that, according to eyewitnesses, both the cars were travelling at high speed.
He said they are yet to take the EAC's statement as he was brought to Itanagar for medical treatment.
Natung has been detained by the police at the Laluk police station for further interrogation.
The deceased have been identified as Kumud Pasoni (30), Md Hajrat Ali (50) and Faruque Ahmed (30) – all from Laluk. Their bodies have been handed over to their families for the last rites, SI Anil Borah informed.