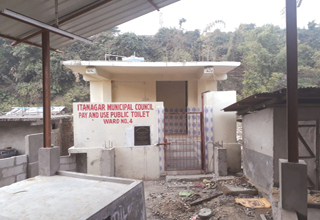 [ Amar Sangno ]
ITANAGAR, Jan 31: Although Itanagar has been declared one of the smart cities in the making recently, it appears that it is not smart enough, as the citizens of the twin towns still have to hold their pee and poop because of lack of functional public toilets.
None of the seven 'Pay and Use' public toilets built by the Itanagar Municipal Council (IMC) from Banderdewa to Gohpur Tinali, Itanagar are functional.
When inquired by The Arunachal Times, an IMC official informed that due to absence of water supply, the toilet sheds are not functioning.
"Process is on to get water supply connection in each toilet shed" he added.
Interestingly, majority of citizens in the twin capital are not aware of public toilet facilities in different locations. The people attributed it to poor advertisement of such facilities by the IMC authority.
"Forget about the conditions of the toilets, residents are not aware where these toilets are located" said a resident at Nyokum Lapang.
When asked for the direction to the toilet by this reporter, a shopkeeper had to call up the councillor to find out the location of the toilet since it is not easily traceable.
The IMC authority says that it is not yet advertising regarding the toilets as most of the toilet sheds are yet to be connected by water supply.
"The toilet structures are poorly constructed and the authorities probably do not want to be exposed. This may be the reason they are not advertising", said a citizen.
"I find the toilet shed locked all the time. I don't know when it will be functional and useful", said another resident at Chandranagar.