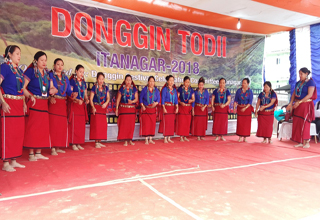 ITANAGAR, Feb 2: Donggin festival of the Adi Bori community was celebrated with traditional gaiety and fervour all over the state.
Attending the festival here, Power Chief Engineer Annong Perme exhorted the people to uphold their cultural identity, and advised the young generation to play their role in carrying forward the unique cultural identity of the tribal society.
"There are many important cultural aspects of our tribal society which are endangered due to the onslaught of modernity," Perme said.
Deputy Secretary Tayi Taggu urged the tribal people to guard their traditions and culture zealously. Stressing on the need to use local dialects in daily life, he said, "Our dialect is directly related to our culture and tradition. If we do not use our local dialect, it will result in the loss of our culture."
Power Minister Tamiyo Taga asked the people to maintain the traditional rituals while celebrating festivals. "It should not be modernized so much that we lose the basic ethos of the festival itself," he said.
Senior member of the Adi Bori society, Hanggung Yaying said that modification of any festival would end up polluting it.
"Originality should not be compromised for the sake of modernization of the festival," he added.
Celebration committee advisor Tashor Pali said, "Culture and traditions that are displayed through our festivals are our actual identity. One may follow any religion or faith, but our identity can be established only through our culture."
He said that festivals are the only way to preserve and promote the state's traditions and culture.
"Donggin is an agricultural festival of the Adi Bori community, which is celebrated for the wellbeing of humankind," said celebration committee president Tabon Yao.
DFCCI general secretary Taken Pali read out the festival's mythology. He informed that in the olden days Donggin included many other festivals, like Mopun, Geneh, Liih and Tapu. "But due to time constraint in the modern days, they have been clubbed together and given the term 'Donggin', which is celebrated on 2 February every year," he added.
A gamut of folk dance presentations by various rasengs (women groups) marked the day.
Trophies, certificates and cash prizes for the Donggin volleyball tournament and the Late Yaber Bodung Memorial Donggin Badminton Tournament were distributed to the winners on the occasion.