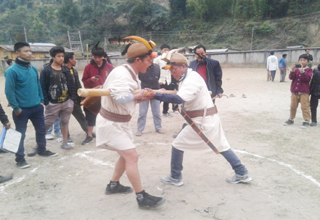 YAZALI, Feb 2: The golden jubilee Nyokum festival here in Lower Subansiri district is being celebrated with a difference.
The organizing committee is making efforts to include people from all walks of life in the celebration by holding several traditional games and sports events.
On Thursday, traditional sports competitions were held at Kebi village near Yazali.
PHED Chief Engineer Toko Jyoti, who is the chairman of the organizing committee, attended the event.
He requested people from all the walks of life, irrespective of their religion, to participate in celebrating Nyokum, and stressed on preserving the age-old art, tradition and culture of the Nyishi community.
"Through Nyokum celebration we can showcase our rich tradition and culture to the rest of world. I am a true Christian, but I believe religion and festival are two different things. Nyokum is a celebration of being Nyishi, and it is celebrated for the wellbeing of not just human beings but all living beings," said Jyoti.
On Friday, traditional games and sports competitions were held at Pitapool and Bilo villages. The organizing committee has informed that during this Nyokum celebration, only traditional games and sports are being promoted to strengthen the age-old tradition of the Nyishi tribe.
Meanwhile, along with the festival, a Swachh Bharat Mission (SBM) team is moving from village to village to promote the state's open defecation-free (ODF) status. The team is sensitizing citizens to the SBM under the PHE&WS department. The villagers have been imparted knowledge about clean toilets, cleanliness, and other aspects of the mission.
'Such village-to-village dissemination of information, coinciding with the celebration of Nyokum, is evoking response from the villagers, youths and panchayat members,' informed the organizing committee.
The committee will organize cleanliness drives at Khel and at the Panyor river on 10 February, in collaboration with the SBM.
The PHED CE and his team of consultants are conducting awareness programmes on the swacchhta protocol, which has been formulated for the denizens in order to sustain the true spirit of the ODF status.