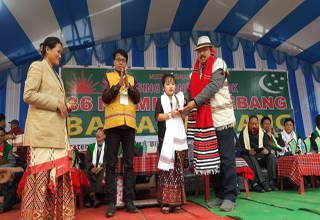 Correspondent
JONAI (Assam), Feb 4: The necessity of preserving culture and tradition was highlighted during a four-day conference of the Mising Baane Kebang (the apex body of the Mising tribe), which concluded here on Sunday.
Kentiliya Pertin, a class 4 student of Holy Cross School, Itanagar, who was specially invited to speak at the event, mesmerized the audience with her speech on preservation of culture and tradition. She delivered her speech in English, Adi and Mising languages.
Daughter of doctor couple Dr. Minggam Pertin and Dr. Asthomi Jamoh Pertin, she is the granddaughter of former MLA Gora Pertin.
"The important part of saving our rich culture is the preservation of our unique tribal dialects. To save tribal dialects the parents, especially mothers who constantly spend time with children at young age, can play a vital role," she said.
Impressed with her speech, Takam Mising Porin Kebang (TMPK) president Naresh Kumbang invited her to deliver a similar speech in next conference of the TMPK.
Earlier, on 1 February, the conference was inaugurated by advocate Tony Pertin from Arunachal Pradesh.
Pertin recalled the ancestral relation between the Adi and Mising tribes, and appealed to the people of both the communities to maintain the age-old brotherhood.
Pertin also exhorted the Mising youths to shoulder the responsibility of preserving their cultural identity.
The four-day programme included cultural presentations, a food mela, a seminar, book release, and exhibition of tribal food and traditional attires, among other things.
During the seminar titled 'Importance of documenting oral narratives for writing a comprehensive history of Tani families: Issues and concerns', held on the third day of the conference, litterateurs and linguistics, including Dr Anil Pegu, Nahendra Padun and others discussed folk beliefs and the evolution of the Adi-Mising civilization.
The speakers stressed on proper documentation of the oral histories of the tribal communities in order to preserve them in written form.
The concluding day's programme began with a display of ancient Mising cultural practices, including folkdance regenerated by the cultural researchers of the community. The programme was followed by a meeting to discuss socioeconomic and educational development of the Mising tribe.
Leaders of the Mising Autonomous Council, East Arunachal MP Ninong Ering, student leaders, and chief functionaries of various tribal organizations of Assam and Arunachal Pradesh participated in the conference.