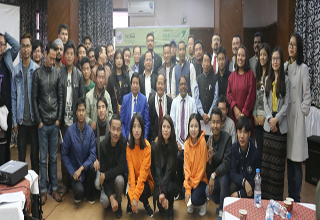 ITANAGAR, Feb 7: The North Eastern Regional Agricultural Marketing Corporation (NERAMAC), in association with the North Eastern Council (NEC) organised an awareness programme on food processing and a food processing investors' meet on Wednesday at a city hotel here.
Present at the event as speaker, Assistant Director of the Indian Institute of Packaging in Kolkata, Nandamuru Nataraj deliberated on the potential of food processing sector in Arunachal Pradesh and how packaging can enhance the value of their produce.
State Agriculture Secretary YW Ringu opined that Arunachal Pradesh was advancing in the field of food processing and was hopeful that such programmes would encourage entrepreneurs.
"Importance should be given to maintain the quality of the product as well as the packaging. We should also encourage young entrepreneurs to venture into food processing and other value added products ", he said.
While saying that entrepreneurship is the way ahead to tackle unemployment, state Chief Commissioner (Tax) Marnya Ete informed that the government has several schemes that promote food processing and called on the youth to venture into the area.
Director of state Agriculture Marketing K Tsering spoke of the support the department provides to agriculturalists and farmers, while Deputy Director Industries Tuli Basar encouraged setting up small food processing units for local produces from the state.
Advisor AK Purkayastha and Agriculture Director Anong Lego also gave their inputs on the scope of food processing to help entrepreneurs.