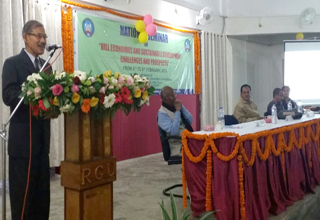 RONO HILLS, Feb 7: There is a need to develop work culture for progress and economic development, said Rajiv Gandhi University (RGU) Vice-Chancellor Prof Tamo Mibang.
He called for punctuality and sincerity among the office goers, without which, he said, having separate time zone has no meaning.
He was addressing the valedictory function of the two-day national seminar on 'Hill Economies and Sustainable Development: Challenges and Prospects' here at the RGU on Tuesday.
Reiterating that peace and connectivity are prerequisite for development, Mibang said, "We need to understand our problems, goals and introspect where we have gone wrong and need to learn from the success story of our neighbours and developed countries."
Senior professor of RGU's Economic department, Prof NC Roy said that hill states of the north eastern region are lagging far behind in comparison to the northern hill states of the country. He called for NE states to follow the footsteps of northern hill states like Himachal Pradesh, Uttarakhand and sister state Sikkim, which have achieved 'magical success.'
'Industrialization is the prime mover of development and we must focus on industrial development,' he said, while also opining that "we need to establish such an industry which is suitable for us given our geographical condition."
Stating that every state in the country has its own comparative advantages, he said Arunachal Pradesh is blessed with high potential, but lacked sufficient amount of incentives to translate the potential into reality.
Prof SK Nayak, Head and Coordinator, department of Economics and Prof Vandana Upadhyay also spoke on the occasion.