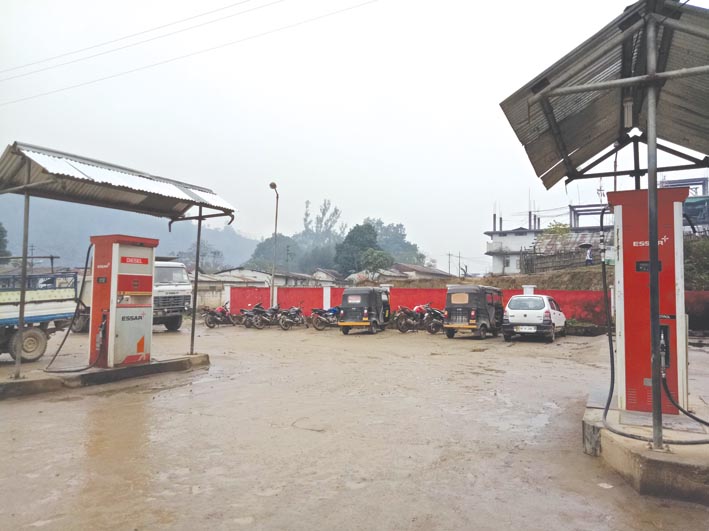 [Karda Natam]
DAPORIJO, Feb 8: Few vehicles are plying on the roads in entire Upper Subansiri district for over a week, owing to unavailability of petrol and diesel.
The shortage of fuel has greatly affected commuters, especially government staffs and the business community. People living in far-flung areas are finding it difficult to reach the towns as passenger vehicles are also off the road.
Meanwhile, many shopkeepers are openly selling petrol at high prices at several places in Daporijo and in its outskirts. Bikers are buying petrol in two-litre Pepsi bottles from shops.
A rider informed that petrol is being sold at the rate of Rs 400 per two-litre bottle.
On being asked, a staffer at the petrol pump in Gandhi Market informed that the last time they received petrol supply was on 1 February, when a truck containing 12,000 litres of petrol had arrived. The quota was sold out by 3 February, the staffer said, adding that it may take a few more days for the next supply of fuel to arrive here.
Regarding the open sale of high-priced petrol in the markets, he said although the petrol pump is complying with the district administration's order banning sale of petrol in bottles, "we are selling it to the people in other containers."
"Shopkeepers in Daporijo and Dumporijo purchase huge quantities of fuel from the petrol depots and sell them at high prices in the open markets, especially during periods of scarcity," said a resident.
He said this is a regular practice in the district, which leads to harassment of vehicle owners, especially government staffs who must commute to discharge their duties.
The administration has served a prohibitory order to every petrol depot against selling petrol in Pepsi bottles. The order is publicly displayed at the depots, too; but depot staffers are apparently working around the ban by selling petrol in containers other than Pepsi bottles, which is then directly resold in the market.