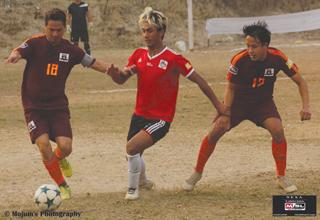 NAHARLAGUN, Feb 11: Athletico de Model Football Club (ADMFC) and Commando Football Club (CFC) drew 2-2 in the first match of the ongoing Maruti Suzuki Nexa Model Super League 2018 at the Model Village football ground here on Sunday.
Defending champions Commando FC took the lead in the 13th minute due to a self-goal by ADMFC's defender Techi Epo. The lead was doubled through a brilliant volley by Takam Vijay in the next minute.
The second half saw ADMFC fight back despite missing star attacker Tadar Joy due to an injury.
Constant pressure by ADMFC caused the champions to squander their two-goal lead by gifting two penalties in the 55th and 59th minutes, both of which were converted flawlessly by Kipa Takum.
Takum also bagged the Man of the Match award.
In the second match, tournament favourite Petwa United Football Club (PUFC) trounced Black Warrior Football Club (BWFC) 6-0.
The one-sided affair saw the tournament's first hat trick by PUFC's Techi Tasar, who ended up scoring four goals in the match.
The other scorers were Tuka Boa, and Techi Takar who scored via a brilliant free-kick.
Joram John of BWFC received the only yellow card in the otherwise clean game, due to a rough tackle.
Earlier on Saturday, ADMFC defeated BWFC 4-1.
A goal each by ADMFC's Kipa Takum and Mangmunlal Kippen, and a brace by Tadar Joy proved too much for BWFC who were outclassed by the experience of the opponents.
Captain Tako David scored a consolation goal in the 65th minute.
In the second match, defending champions Commando FC lost 1-4 to PUFC.
Techi Tasar of PUFC scored two goals, while Tuka Boa and Tatbang Pertin scored a goal each.
The only goal for Commando FC was scored by Taba Taram through a penalty in the 65th minute.
Arunachal Pradesh Sports Association Secretary Kipa Ajay awarded the Man of the Match awards. PUFC's Techi Tasar and ADMFC's Kipa Takum were the Men of the Matches.
The next league matches are scheduled to be held on Saturday from 1 pm onwards.