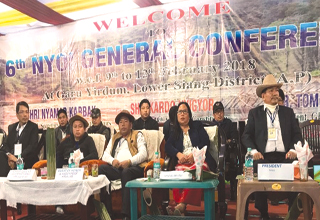 GARU, Feb 11: Advocating equality between men and women, Sports & Youth Affairs Parliamentary Secretary Nyamar Karbak on Saturday exhorted the Galo society to give away shares of ancestral properties to girl children as well.
"All women deserve equal rights with men. The women in fact deserve more. We should stay away from the practice of gender discrimination and give equal rights to a girl child," said Karbak while addressing the 6th general conference of the Nyoi Ao Welfare Society (NAWS) here in Lower Siang district.
Addressing the students in particular, Karbak advised students to stay away from antisocial elements, especially drugs and alcohol, and focus on studies as well as on games and sports.
He said the Pema Khandu-led state government has given sports "a precise direction" after unveiling the sports policy during the Liromoba Sports Carnival last year.
Karbak also highlighted other programmes and policies of the state government, particularly the 5% job reservation for meritorious sportspersons in all government departments.
MLA Kardo Nyigyor appealed to the people to support "the present leadership" and the state government in the fight against corruption.
"A corruption-free society can exist only with the support of its people," said Nyigyor, urging the people to stay away from the practice of cash-for-votes.
Also to speak on the occasion was renowned priest Tabin Karlo, who highlighted the migration and genealogy of the Nyoi clan, which consists of Zirdo, Karlo, Lommi Gameh and Linga.
Drs Takap Zirdo and Tado Karlo spoke about the Galo ennam (dialect). NAWS president Tadu Gameh also spoke.