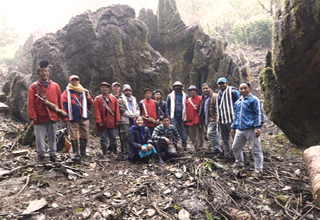 NAHARLAGUN, Feb 11: A team of officials and scientists from the Geological Survey of India (GSI) visited the recently discovered sculpture, 'Pwleng Sengri', in Langta Tata mountain in Yangte circle of Kra Daadi district.
The team, led by Survey Officer Sanjay Singh, visited the site on 9 February. They studied the standing sculpture and discussed it with the goan burahs and locals, including panchayat members. They also took samples from the site for lab testing, and will submit the report to higher officials of the GSI's Itanagar directorate soon.
Tarh Welfare Society general secretary Tarh Tarak informed that the locals of Yangte circle twice cleared the jungles covering the site, located on Langa Tata mountain, around 10 km from the circle headquarters, to turn it into a tourist destination.
He appealed to state government to send a team of officials from the Research and Tourism department and others for recognizing and promoting the site as a tourist destination.