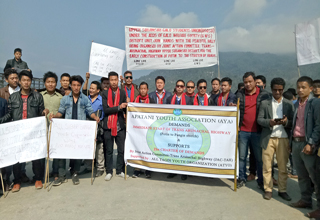 [ Karda Natam ]
DAPORIJO, Feb 12: Various groups representing the people of Upper Subansiri, Lower Subansiri and West Siang districts staged a dharna here on Monday to protest the state government's failure to meet their demand for construction of the Potin (Lower Subansiri) to Pangin (West Siang) stretch of the Trans-Arunachal Highway.
The NGOs reiterated their demand that the state government immediately start construction of the highway. They highlighted the problems faced by commuters driving on the dilapidated road, which has been in a deplorable condition for years, owing to neglect.
They also appealed to the government to initiate 'exemplary action' against construction firms TK Engineering and ECI 'for playing with the emotion of the people of the three districts.'
Hundreds of people joined the procession from Sigin bridge to the Upper Subansiri DC office here, shouting slogans and displaying placards criticizing the two firms.
At the DC office, representatives of groups like the Apatani Youth Association, the Tagin Youth Organization and the Galo Students' Union, under the aegis of the Joint Action Committee Trans-Arunachal Highway, placed their grievances before Deputy Commissioner Danish Ashraf.
Following the meeting with the representatives, Ashraf gave assurance that he would take the matter to the higher authorities for early redress.