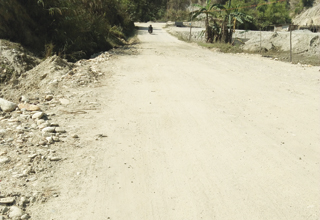 Staff Reporter
ITANAGAR, Feb 16: The condition of the Itanagar-Jully-Papu Hill road is terrible and needs urgent attention of the authorities.
With the construction of the four-lane road underway, during the monsoon season NH 415 is expected to witness blocks due to earth-cutting.
In such a situation, Jully road will become an important alternative road. Recently, when one side of the road was damaged at Papu Hill due to earth-cutting, the traffic was diverted through Jully.
The state government had earlier announced to convert the Itanagar-Jully-Papu Hill road into a bypass by constructing a two-lane road.
However, the condition of that stretch of the road has only worsened in recent months.
"The state government should construct a two-lane road from Papu Hill to Chimpu, via Jully. This stretch should be declared as state highway. Once completed, it will serve as a bypass road and also ease traffic congestion on NH 415. The work should be awarded to a reputed company after proper bidding process," said a resident of Jully.