ITANAGAR, Feb 18: Nishu Konia won the Mr. Arunachal title for the third consecutive year at the 5th Mr Arunachal Body Building Championship held at Siddharth Hall here on Sunday.
Nabam Abo and Satyajit Tayeng won the second and third position respectively.
In 2016, Konia had won the Mr India title in junior section at the 6th National Bodybuilding Championship held at Bhakti Ramdasu Kalashetram Khammam, Telangana.
Home Minister Kumar Waii, who declared the championship open, encouraged the young bodybuilders to work hard to become champions. Speaking about the importance of playing sports, he said sports not only help stay physically fit, healthy, but also increase the life expectancy by almost 15 years. He advised the participants to maintain discipline without which no one can progress in any field.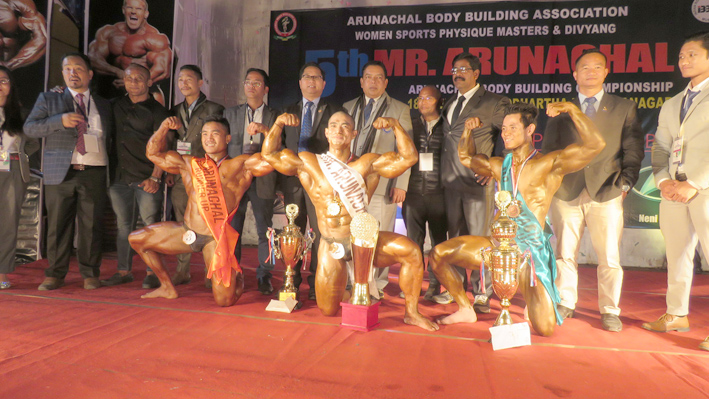 Waii said that he will propose the state government to keep a good amount in the next budget for overall development of games and sports.
He contributed Rs.5 lakh to the organizing committee to meet the expenses.
Sixth time world champion Abraham Boby Singh from Manipur was also present during the event and mesmerized the audience with his body postures.
Earlier, Arunachal Olympic Association secretary general Abraham K Techi submitted a two-point memorandum to Waii urging him to keep 5 percent job reservation for the meritorious bodybuilders of the state and grant out of turn promotion to Mr. Arunachal Konia, who has been currently serving as constable in Arunachal Pradesh Police.
In total, 40 bodybuilders flexed their muscles for the top honors in their respective categories.
The championship was organized by the Arunachal Body Building Association.
The bodybuilding championship was held in six different weight categories. The competition was also held for the differently abled persons, women sports physique and masters categories.
The winners of various categories are as follows:
Results:
(75+ kg): 1st: Nishu Konia, 2nd: Raj Rabha, 3rd: Joysam Gogoi; (75kg): 1st: Nabam Abu, 2nd: Tai Tama, 3rd: Darpan Narah; (70kg): 1st: Tame Peter, 2nd: Angom Rairenthon Meitei, 3rd: Taluk Bage; (65kg) 1st: Satyajit Tayeng, 2nd: Treeshit Majundar, 3rd: Jyotish Basumotary; (60kg): 1st: Nabam Tayu, 2nd: Aman Duku, 3rd: Binod Tamang; (55kg): 1st : Jawani Ekru, 2nd : Bijoy Sarkar, 3rd: Batong Jerang;
(Women Sports Physique) 1st: Hillang Yajik, 2nd: Kipa Nuri, 3rd: Bangam Taipodia.
(Masters) 1st: Tirtha Tamang, 2nd: Balo Tadi, 3rd: BB Das.
(Differently Abled Person) 1st: Robin Natung, 2nd: Techi Sonu, 3rd: Techi Taller.