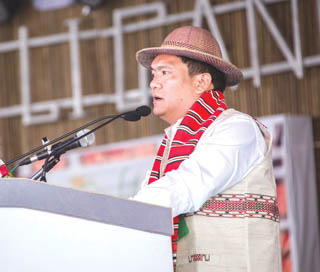 PASIGHAT, Feb 23: Chief Minister Pema Khandu on Friday, informed that the budget allocation for tourism has been raised to Rs 100 crore in the current financial year from previous year's mere Rs 16 crore.
The CM was addressing the first Mega Ali-Aye Ligang festival celebrated jointly by the Mising and Adi community at Bakkul under Mebo Sub-Division here.
Hailing the unity between Mising and Adi community, the Chief Minister said that such bonding will help improve relation between Assam and Arunachal. He appealed both the community to preserve their culture and urged them to prevent its dilution from the onslaught of modernity.
While responding to a memorandum submitted by Adi Mising Baane Kebang, the Chief Minister announced to declare Ali Aye Ligang as local holiday wherever Mising and Adi population are settled from next year onwards.
Speaking about the development of local tourism, the Chief Minister assured that plans will be worked out on how to promote the Daying Ering Wildlife Sanctuary for tourism purposes.
Further, the Chief Minister appealed to the people to submit their valuable suggestions for budget preparation via online through a website www.arunachalbudget.in. He informed that state government has kept prize money for best suggestions. He also informed that consultation with all community-based organizations and other stakeholders would also be held before finalizing the budget.
The Chief Minister further informed that focus area of the budget will be mainly on health, education, agriculture, tourism, skill development, entrepreneurship besides; various new schemes will also be announced for youth empowerment.
Deputy Chief Minister Chowna Mein, State BJP President and local MLA Lombo Tayeng, MLA Kento Rina, Parliamentary Secretaries Gum Tayeng, Kaling Moyong and Olom Panyang also attended the celebrations.