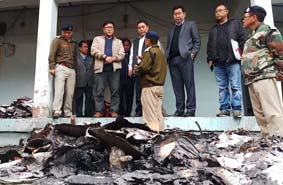 ITANAGAR, Feb 23: Home minister Kumar Waii today led a high level team to review the situation at Yingkiong in Upper Siang and Tezu in Lohit, which has witnessed violent protest after sexual assaults on children.
The team, including rural development minister Alo Libang, animal husbandry & dairy development minister Dr Mohesh Chai, DGP Sandeep Goel and media persons, inspected the district headquarters and listened to the peace committees, civil societies and PR leaders about the turn of events.
Waii while holding a meeting with 18-member peace committee at Yingkiong assured all possible help from the state government to give justice to the victim by chargesheeting the accused Holvi Sema, teacher of St Thomas School in Yingkiong, for allegedly raping his five year old student.
Sema, who was arrested on February 18 last at Yingkiong but was later shifted to Aalo in West Siang district, has reportedly confessed to have committed the crime.
"The criminal is in jail at Aalo and the police investigation is on. The demand to hang him is a judicial matter beyond police jurisdiction. However, he would be chargesheeted within two months as demanded by them but law would take its own course," Waii said.
He further said the state government would extend help to the victim undergoing medical treatment while assuring formation of a committee to inquire into the role of Upper Siang superintendent of police in-charge and Yingkiong police station officer in-charge and would act after the report.
The huge number of public gathered outside the Circuit House in Yingkiong were no mood to relent and wanted nothing less than 'heaviest punishment' against Sema, suspension of SP in-charge, OC, action against St Thomas School principal and grant-in-aid for the victim.
On the Tezu incident, where a rape accused and his accomplice were dragged out from police lock-up and lynched by the enraged mob on February 19 last, the home minister said investigation are on and those found guilty would be punished as per law.
Sanjay Sobor (30) and Jagdish Lohar (25) were lynched on Feb 19 by a mob angered by the rape and murder of a five-year-old girl.