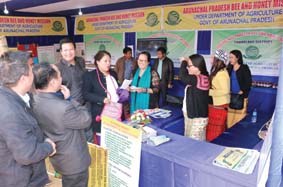 ITANAGAR, Feb 23: Honey worth Rs. 1.50 lakhs has been sold in the exhibition-cum-sale stall of agriculture department at the Festival of Arunachal, IG Park here which concluded on Thursday. The progressive farmers under the 'Arunachal Pradesh Bee & Honey Mission (ABHM)' from Papum Pare, East Siang and Changlang districts participated in the exhibition and sold their honey products.
The honey produced exhibited and sold were honeys of Apis Cerana (Indian Bee), Apis Melifera (Italian Bee), Apis Dorsata (Rock Bee) and Apis Melipona (Stingless Bee). The Apis Melipona was on high demands of the visitors.
The live colonies of Apis Melipona and Apis Cerana and new value added honey products like honey cube (honey barbeque) were also displayed in the exhibition.
Many distinguished visitors including National Bee Board (NBB) Executive Director B L Sarswat visited the stall on 21 February. Sarwat also inspected the Apiary and Bee Box manufacturing units developed under the Chief Ministers Employment Generation Programme at Mani Village, Doimukh and expressed satisfaction over the activities and performance under ABHM, according to an official release.