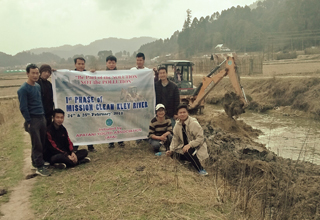 ZIRO, Feb 25: The first phase of the Mission Clean Kley River (MCKR), a calendar event of the Apatani Youth Association (AYA) to keep the Kley River clean was conducted on 24 and 25 February.
Despite bad weather, members of the association cleaned the mud deposits along the river by pressing earth moving machineries (JCB) into service provided by the owners for free, according to an AYA release.
The mud deposits are mainly responsible for flooding and pollution in the river, AYA said.
The AYA has decided to carry out the Clean Kley River Mission in phase wise manner unlike previous years, when it was conducted during November, it said.