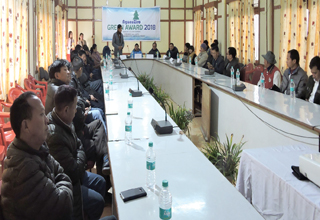 ZIRO, Feb 25: The first 'Ngunu Ziro Green Award' was conferred on three environmental workers in recognition of their outstanding contributions towards sustainable development of Ziro valley.
The awardees are Bikramjit Sinha, a wildlife biologist working with the Geological Survey of India; Hage Yanka, a research scholar at Rajiv Gandhi University and Punyo Chada, an environmental activist.
Local MLA and Parliamentary Secretary (Food & Civil Supplies) Tage Taki presented the awards to them in a function here on Sunday.
The award carries a citation, memento and cash award of Rs 10,000 -each sponsored by Save Ziro Campaign.
Sinha has been awarded for his contribution to the documentation of faunal diversity of Ziro valley, specifically discovery of a new species of fish -Oreoglanis pangenensis.
Similarly, Hage Yanka has been awarded for discovery of a plant Thladiantha Ziroensis and Punyo Chada for his discovery of a day flying moth named Elcysma ziroensis (Apatani Glory).
Lauding the works of Ngunu Ziro and congratulating the awardees,
Taki said that his efforts have always been to save Ziro for the future generations. Developmental activities, he said, should be with a long term vision rather than short term benefits. He urged the youths to spread awareness about the importance of all creatures, especially butterflies and bees, without which life on earth would not be possible.
Ziro Additional Deputy Commissioner, Nending Chatung said, "We should not give the future generations any reason to blame us for spoiling the environment of our place.
Among others, Divisional Forest Officer Koj Rinya, Apatani Youth Association (AYA) president Habung Tamang also spoke.
A large numbers of conscientious citizens, including representatives of gaon burahs, Panchayats, community organizations, like AYA and Apatani Students' Union, senior citizens and other intellectuals attended the function.
This is the first environmental award instituted by any NGO in the state. Ngunu Ziro has been working for the sustainable development of Ziro valley in particular and Arunachal Pradesh in general since about a decade now.
Its notable works include introduction of ecotourism projects like home stays and nature guide, with organization of annual events such as the Tanw Lemba Bicycle Expedition and Ziro Butterfly Meet.