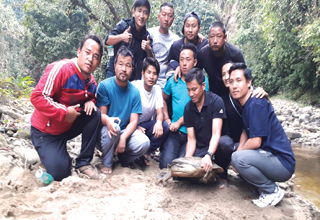 BHALUKPONG, Feb 26: A 10 kg turtle was released in the Pakke Tiger Reserve on Sunday.
The female Indian soft-shell turtle was rescued by a group of youths from Bhalukpong and was temporarily being kept in Lepang Futhu, the sacred natural spring of the Aka people in Bhalukpong.
'The animal looked healthy and strong so it was released inside Pakke', said Range Officer Kime Rambia.
The local ranger appreciated them for their concern for wildlife and hoped that others too would take inspiration from the noble gesture.
As a gesture of gratitude, the Pakke authorities took the rescuers to a jeep safari, where the group sighted wild elephants, hornbills, khalij pheasants and other birds.