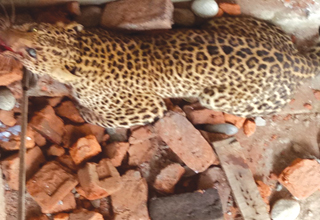 Staff Reporter
ITANAGAR, Feb 28: Four people, including a monk were attacked when a leopard entered Namsai Township on Wednesday at around 8.30am and created much panic among the citizens.
Sources from Namsai informed that the leopard was spotted around the main market area and was taking shelter under the State Bank of India building, which also houses sumo and other taxi counters.
Two taxi drivers, a monk and another citizen were attacked by the leopard in broad daylight.
The injured have been identified as Venerable Uttananda Bhikhu, Subir Nath, Biswajit Nag and Bhaiti Deka of Namsai area.
All the injured persons were admitted at the CHC in Namsai, where three with minor injuries were released after administering first aid, while monk Venerable Uttananda Bhikhu was referred to Damini Hospital in Dibrugarh
The monk had reportedly gone to use the washroom beneath the building, when the leopard attacked him. He has reportedly received grievous injuries on his skull and has been rushed to a hospital in Assam for further treatment.
Meanwhile, Namsai DFO T Mize informed that when his office received the news, they found a large crowd pelting stones on the leopard.
"Despite our best efforts to stop the crowd, the wild cat was being attacked and we had to seek the help of the district authority and DIG. The administration, police, forest guards, along with people from wildlife organisations on the district came forward to rescue the wild cat," he informed.
"Since we do not have the equipment to rescue such wild cats, we had to contact the Wildlife Trust of India (WTI), who arrived with tranquilizing guns, accessories and medicines and rescued the wildcat for treatment and will be evacuated to the Kaziranga Rehabilitation Centre in Assam by tomorrow," he added.
Earlier, the crowd managed to corner the leopard and lock it inside a room till WTI officials from Duliajan, Assam arrived.
"We have to live in co-existence. The more we indulge in de-forestation, the more bio-diversity will be affected", the DFO said of how the leopard managed to arrive in the heart of the town.