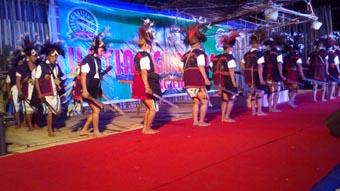 BOLENG, Mar 1: Unying Giidi, the New Year celebration of the Adis was observed at the general ground here with traditional pomp and gaiety on Wednesday.
Greeting the people on the occasion, Minister for Power, Textile & Industry, Tamiyo Taga urged all to continue to preserve and maintain the celebration in its original form.
"Hobo Molik (Mithun fight), which is a unique performance and performed during Unying should be practised and encouraged," he said, adding that the department of Indigenous Affairs should work on its preservation.
Handloom and Textiles Commissioner, Tahang Taggu said a proper date should be fixed and notified for the festival's celebration.
Further, Tapu dancers, who represented NEFA at the Republic Day of 1961 in New Delhi, namely Tayeng Tatak, Tahang Komut, Tajir Mibang, Tapor Tatak and others were felicitated during the celebration.
Systematic Tapu dramatization was performed by the Rumgong Tapu team, while a mega Tapu was performed by around 150 Adi warriors.
The Siang Unying Giidi Celebration Committee also felicitated various achievers from the district in different fields, including Mingki Talom (Lawn Tennis), Minggam Taloh (Football), Taka Tamut (Mountaineering) and Gandhi Darang (Journalism).