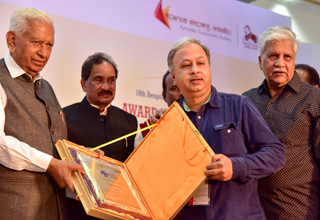 GUWAHATI, Mar 3: Filmmaker Utpal Borpujari's debut feature film Ishu has won the Special Jury Award in Indian film competition section of the 10th Bengaluru International Film Festival (BIFFES), which was held from 22 February to 1 March.
"The award has been given for a vivid portrayal of how indigenous communities confront and overcome their barbaric practices from within. The film also looks at the interface of tradition and modernity avoiding hierarchical categories," the jury in its citation wrote.
Produced by the Children's Film Society of India (CFSI), Ishu was earlier nominated for best director and best film in the Indian languages competition in the 23rd Kolkata International Film Festival.
It has also been screened in the Canada Kids Film Festival (Toronto), International Children's Film Festival Bangladesh (Dhaka, International Competition), 3rd Smile International Film Festival for Children and Youth (SIFFCY, New Delhi), 3rd Eye Asian Film Festival Mumbai, 10th International Guwahati Film Festival, organized by Gauhati Cine Club and the first Assam International Rural Film Festival, Meleng Phesual, Jorhat.
It has also been selected for competition in the Toulouse Indian Film Festival, France, to be held in April.