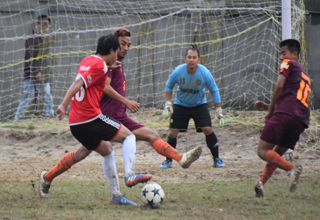 NAHARLAGUN, Mar 3: Defending champion, Commando Football Club (CFC) was knocked out of the ongoing Maruki Suzuki Nexa Model Super League-2018 after it lost to the Petwa United Football Club (PUFC) 3-1 here at the Model Village football ground on Saturday.
The lone goal for CFC was scored by Taba Taram.
The first goal for PUFC was scored by Boa Josh, followed by Techi Takar and Tad John scoring the next two goals.
Beyong Kakang of PUFC was declared 'man of the match'.
Earlier, in the first match of the day, the Athletico De Model Football Club (ADMFC) won against the Black Warriors Football Club (BWFC) 2-1.
Mangminlal Kipgen scored both goals for ADMFC, while Tako David scored the lone goal for BWFC.
Kigpen was also awarded 'man of the match' by Kra Daadi District Football Association president Takam Tayam.