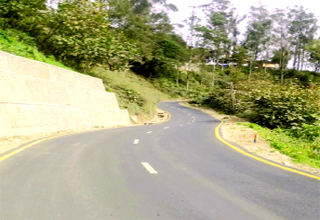 ITANAGAR, Mar 13: The Border Roads Organization (BRO) on Tuesday completed the black topping of Bomdila and Dirang stretch of the most challenging and strategically important Balipara-Charduar-Tawang (BCT) road.
The 53 km of the road from Bomdila to Rana Camp (Dirang) includes 35 km of double lane and 18 km single lane passing through Bomdila and Dirang towns.
The 42 BRTF under BRO's Project Vartak put in massive efforts in the last two years to complete the work as the road was in a very bad condition.
The commuters will now experience not only a hassle-free journey but also a reduction in the travel time between the two towns from three hours to one hour and fifteen minutes, said the BRO.
It will also facilitate smooth movement and deployment of armed and paramilitary forces at strategically important border locations.
The BRO stated that it was able to expedite the road work only after the West Kameng deputy commissioner had taken up the removal of structures that were constructed in encroached lands last year.
Besides blacktopping, the sinking areas and drainage system along the road were also improved making the road all-weather.